Richard- @Richard_Colo
A bit about me: I have been doing band promo since 2011. Since that time I've had the privilege of meeting Marianas Trench several times, interviewing them, having lunch with them and seeing them live 23 times. I work full time and manage the fan-sites, why? I love brightening people's days by giving them free MT stuff.

Favorite Trench song by album:

Fix me: Skin & Bones
Masterpiece Theatre: Perfect
Ever After: So Soon
Astoria: While We're Young
*Here's To The Zeros was not on an album but remains my favorite "non album single."

Powered by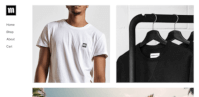 Create your own unique website with customizable templates.