Our Interview with Mike and Matt
Click Photo for More Information
---
Josh Ramsay: Singer/Songwriter/Guitar/Piano @JoshRamsay
Josh grew up surrounded by a musical family, as well as popular musicians. With his Dad, Myles Ramsay, owning Little Mountain Studios, and his Mom, Corlynn Ramsay, being a vocal teacher. His parents worked frequently with big name musicians, with bands such as AC/DC and Aerosmith working in Little Mountain Studios. For a while, his mother helped Brian Johnson with his vocals.
Josh grew up thinking that everyone was a musician saying "Up until I was about 13, I thought that everyone was a musician, because that's mostly who I was surrounded by, was musicians.". Ramsay started his own solo career at the age of 14, playing at local coffee shops and bars. In middle school, Josh joined choir and band, where he met best friend, and future band mate, Matt Webb. After their friendship formed, Josh found out that Matt was looking for a band to join. Coincidently, so was Josh. Together they formed Ramsay Fiction, along with Morgan Hamsted and Steve Marsh.
Later Life and Drug AddictionIn his teen years, Josh struggled with insomnia, and bulimia. But also struggled with something more dangerous, an addiction to heroin. He hid his addiction from his family and friends for a while. They suspected something was wrong when Josh would disappear for months on end, and when during the summer between his Grade 11 and 12 years, he lost 75 pounds. Eventually everyone found out, and held countless interventions, which all failed. His parents then gave him one final choice, "Get clean, or get out of the house."
At the age of 17, Josh entered into a treatment centre for his addiction. Josh said in an interview with MuchMusic: "I had initially planned to go to the treatment centre to get everyone off my back, then when I got out, I was going to jump back into drugs again. But after having it out of my system for a few weeks, my perspective on it started to change." During his stay at the centre, the therapist had told him to write a love letter to his drug of choice to show just how important to him it had become. Later on, that letter would become the song "Lover Dearest". While going through treatment, Josh's insomnia got worse, resulting in the writing of the song "Say Anything". He said "When I wrote it, I wasn't thinking of it as a song, I was just writing things down, instead of sitting up in bed being frustrated."
Marianas TrenchAfter Josh got out of rehab, he decided he needed a new start. Ramsay Fiction had broke up while Josh was in rehab. Not wanting to give up on their musical careers, Josh and Matt got back together, and started searching for new band members. They found their drummer Ian Casselman in an ad in the local newspaper. Through Ian, they found their bassist Mike Ayley, who was Ian's roommate at the time.
The four chose the band name Marianas Trench. The band never told the real reason for the name they chose. They recorded numerous songs, trying to catch a break. In 2002 they released their first self-titled EP, which contained songs that would appear on their debut album Fix Me.
The band had caught the eye of Jonathan Simkin, co-owner of 604 Records. Jonathan prestened the band to owner Chad Kroeger, who is also the lead singer of Canadian band Nickelback. Not feeling the band was ready Chad refused to sign them. Josh was relentless, and so was the band. Josh kept sending demo tapes into Jonathan, and eventually started to camp outside the 604 Records office. That tireless effort is what got the band signed. After being signed, Chad helped them write songs, and come up with different ideas. Josh and Chad would sing ideas to each other over the phone for hours.


---
Ian Casselman:
Drums/Vocals
@Mtrench
---
Mike Ayley: Bass/Vocals @Mtrench

---
Matt Webb: Guitar/Vocals/Piano
@MattWebbMT

Ever wondered what it would sound like if Keith Richards had given songwriting advice to the Eurythmics? No worries if you haven't – Matt Webb has already grappled with that question. And what we have here, in the shape of his debut solo EP, is the answer. Kind of.
"I know it's super random," the Marianas Trench guitarist explains, about a song called "Cinnamon", "but I read his autobiography, and I was, like, 'What would Keith Richards do here?' Cause he was talking about simple, simple songs with nothing to them. And then it just came out."
"Cinnamon" is part minimalist funk, part Corey Hart, all hook, and possibly the last thing anybody would have expected from Webb on his first working holiday away from Marianas Trench. He even says so. "You know, I was a little surprised by it too," he admits, laughing, "but I'm a big '80s sucker. I've seen Def Leppard live five times. The '80s just sort of rubbed off."
Webb adds that his teenage musical diet also included the Matthew Good Band, blink-182, and Foo Fighters. But it's the sophisticated pop lover who emerges on his upcoming EP. Or "Justin Timberlake if he played guitar," as one friend put it, about an EP that also offers chest-bursting electro-ballads ("Goodbye Addict"), squelchy, neon, dancefloor-burners (Take You Higher"), and aerobic synth-funk ("Bad Girl"),
"I've been writing a long time," Webb shrugs, "and I wanted to try something a little different. There are some extremely straight-ahead pop songs on there. But they were really fun to do."
Of course they were! When Marianas Trench wrapped up its Masterpiece Theatre tour at the end of 2010, and Webb saw the opportunity to do his own thing, he promptly surrounded himself with friends. And not just ordinary friends – brilliant friends like Dave Ogilvie, who produced "Cinnamon" and mixed a substantial chunk of the finished record. "A consummate pro," says Webb. "Who wouldn't want to work with the guy that produces Nine Inch Nails and Marilyn Manson?"
He also roped in Fake Shark! Real Zombie! frontman and "dream producer" Kevvy Maher, who scores co-writing (along with Carly Rae Jepsen) and knob-twiddling credits on "Take You Higher", along with production credits on "Goodbye Addict". "I'll be working with Kevvy until I die, guaranteed," states Webb. "We're also starting a side, side project called USB Mustache. Stay tuned for very mediocre quality Burt Reynolds inspired '70s songs with a hint of 2011 technological prowess."
In Webb's well-calibrated estimation, Ryan Stewart – who co-wrote and produced "Bad Girl" and "Runaway" - is a man who "lives and breathes super-hits." Plus, he works out of his home. "Which is cool," notes Webb, "because I can hit the studio in a leopard snuggie and no one objects."
Finally, we have Webb's MT bandmate Josh Ramsay, who produced "Stage I Remember" and co-wrote and produced "Landslide". "I've learned so much about music from him over the years," says Webb, "it seems totally natural that he would be involved. He's been helping me write and record songs since I was 15 years old." It's been a fruitful relationship. If Marianas Trench saw the duo's punk roots evolve into majestic, baroque pop, this EP proves that they can also do sleek.
Webb's debut is going to delight the faithful, surprise many others, and probably saddle the young guitarist with an unmanageably successful side-project. Which would be fine with Webb, since touring is his "favourite, favourite" thing to do. But if it should cause a little anxiety among the Trenchers, don't let it. Assures Webb, "Marianas Trench is my number one priority and my family, so I'll make sure this doesn't interfere with it."


---
Powered by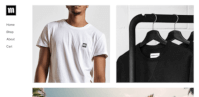 Create your own unique website with customizable templates.